| | |
| --- | --- |
| | Lattice |
The complete Ionic 4 and Firebase/Google Cloud starter
Save yourself months of effort or thousands of dollars by leveraging our years of experience building Ionic and Google Cloud based apps.
You need more than a code template...
A successful software project is much more than code for a few screens and plugins. High performance software teams use modern, essential software engineering practices such as DevOps, automated testing and continuous integration.
Greetings! Let me quickly introduce myself... I'm a software engineer/architect with 15 years of commercial experience in software development. In that time I've worked on multi-million dollar projects for the largest investment and retail banks, insurance, defence and telecommunication companies in Australia.
For the last 4 years I've developed Ionic apps, from version 1 beta up to the new version 4, on the Google Cloud.
Lattice distills all that experience into a starter project which will save you countless hours and dollars developing and running your app. While you might not have the $10,000 spare to hire me for a month to build a solid foundation for your app project, this gives you the same start at a tiny fraction of the price.
Lattice is the only Ionic starter project which integrates everything you need for the whole software development lifecycle. From continuous integration builds to production monitoring through integrations with GitLab and the Google Cloud Platform
Enterprise mobile security firm Appthority released a report in 2018 that thousands of mobile apps have exposed over 113 gigabytes of data from 2,300 unsecured Firebase databases.
Security can't be an after thought in your app. Best practices are baked into the project setup, configuration and tests from the beginning to minimize the risk of a data or account breach.
Lattice comes with the scripts to run a continuous integration build pipeline using GitLab CI.
Consistent builds and the automated test execution minimizes the risk of bugs being introduced to your production system from regression bugs and manual procedures. It also saves you time and money from automating essential test, build and deployment tasks.
GitLab CI build integration scripts automates your builds, testing and deployments from pushing to Git branches. All of this makes the server and mobile apps easier to build, test, operate and rollback.
In the world of PaaS and serverless this is more important than ever.
Integration with the Google Cloud Stackdriver Trace service gives you insight into how your app is performing
Trace makes it easy to check how new versions of your server software are performing, and identify slow API calls so you can easily improve the experience for your customers.
How do you monitor errors in the native or web apps? The Angular error reporting service in the app sends client errors to the server so you can view them in the logs.
Integration with the Google Cloud Stackdriver Error Reporting service gives you actionable insight into any application errors.
The error reporting service groups errors which are the same and can notify you about new errors so you can quickly take action when application or service errors occur.
Advanced, but simple to use, project setup supports multiple environments eg, dev, QA, continuous integration and production.
NPM scripts refined over the years make routine tasks, such as deploying to the app stores, a single time saving command.
Integration with GitLab and Google Cloud to provide the full software development lifecyle of continous integration, performanace analytics, consolidated logging and error reporting in production.
---
Core features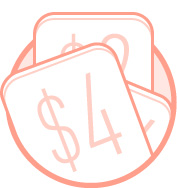 Monetization
Monetize your app from in-app purchases and advertising. Sample code is provided to quickly configure your monetization strategy.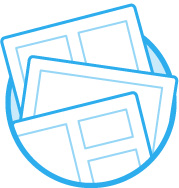 Mobile/PWA/web app
Ionic app with core features (social auth integration etc).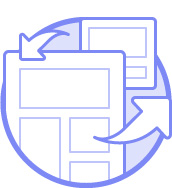 Social Authentication
Facebook and LinkedIn integration for authentication and copying profile data.
---
Ionic Framework
Lattice is built using the Ionic version 4 with the Angular module. The common.
---
Firebase
Lattice integrates key features of the Firebase platform to jump start your project
Push
Firebase Cloud Messaging is integrated for both native app and web/PWA.
Data
Profile and other data is stored in Firestore, the new highly-scalable real-time database in the Firebase platform.

User identity and authentication
User management and authentication is handled with Firebase authentication.
---
Google Cloud Platform Support
Lattice comes with first-class support for running the Node.js server application on the Google App Engine, and serverless functions.

Cloud functions
Multi-project build scripts for dev/qa/prod environments. Common functions provided for user registration etc

Firestore
TypeSafety.

FCM
Leverage the infrastructure that powers Google's global services to scale your app to millions of users with data analytics and machine learning.
Advanced, but simple to use, project setup supports multiple environments eg, dev, QA, continuous integration and production.
NPM scripts refined over the years make routine tasks, such as deploying to the app stores, a single time saving command.
Integration with GitLab and Google Cloud to provide the full software development lifecyle of continous integration, performanace analytics, consolidated logging and error reporting in production.
.gitignore file configured to exlude all the generated files which shouldn't be committed to source control
Page Objects in the end-to-end protractor tests for good test code design
End-to-end integration tests for ...
Protractor and Karma configuration automatically choose the appropriate Chrome configuration running tests in a development or headless environment
TestUtils class with all the required services provided or mocked for easy test development
AngularFireModule module inititialised using the values from the environment specific generated values
ngx-translate initialised with the custom factory to make it work on the native builds
Login service to encapsulate the logic which which screens to go to in the login sequence (e.g. location setup, accept terms & conditions, profile setup, then home page or another if opened from a push notification)
Service worker for Firebase web push notifications
Script to prompt to install as a PWA
Protractor configuration to automatically choose the appropriate Chrome configuration depending if desktop development or headless CI tests NPM scripts to: Add the Facebook plugin using the app id/name from the centralised configuration Generate the Firebase project Uses the and environment-dependant values generated from the master configuration file Functions project uses TypeScript on strictest compile settings and using the shared TypeScript data model to minimizes bugs * Firebase User onCreate function to copy data to an entry in Firestore and subscribe the user to a MailChimp email list * Firebase User onDelete function Node script to easily deploy the Firebase project to the appropriate environment using the values from the master configuration file The deploy script can be configured in the continous integration environment to work as it required authentication App Engine Koa 2 web application Essential middleware conifgured Middleware for Firebase authentication configured, with a corresponding BaseApiService in the app project to set the appropriate headers Firebase/Google Cloud modules auto-configure to use the default credentials when running in AppEngine, otherwise look for a key file in a specific format Our Koa utils for validating requests Routes to * Add admin role to a user * Remove admin role from a user * Send a test push notification * Upload a file
App Engine project
Lattice comes with an App Engine project using the Node.js 10 standard environment, which provide 28 free hours/month. AppEngine is preferred for user interactive API routes, as Cloud Functions can have higher latency due to more common cold starts.

Cloud functions
Koa 2 based web app with common routes such as uploading files provided.

Firestore
Scripts provided to deploy to App Engine for multiple environments

FCM
Koa is integrated with Firebase authentication to authorize protected API endpoints
---
High Quality TypeScript
Don't waste your time with low-quality starter code!
Lattice uses the strictest Typescript compiler settings to minimize potential bugs. Language features such as partial types used where possible to enable more static type checking, minimizing bugs and increasing your confidence to refactor.
---
Simplified Configuration and Deployment
with multiple environment support
Setting up and configuring all the plugins, services and components for the server, Android and iOS applications is no easy feat. Follow the step-by-step documentation to populate the centralised configuration file. Then the provided NPM scripts make building, testing and deploying for each environment a single command.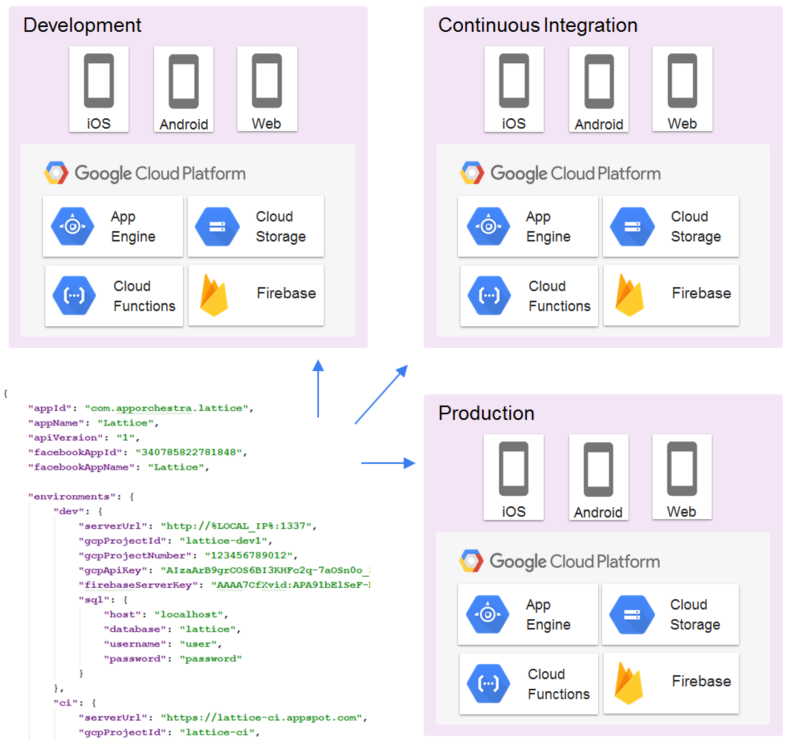 Setup
The development environment initialisation scripts use the configuration file to simplify the project setup.
Build
Scripts are provided which auto-configure from the configuration file to run the server and to build the mobile apps locally
Deployment
The simple scripts which deploy the server module and deploy the app builds to the Apple and Play store also use the configuration file to make it simpler, reduce errors and allow automation.
---
Centralised data model typings
The database data model interfaces are defined in server project.
The app and Firebase projects are configured to the import the shared definitions so you can ensure strong typing throughout your projects, minimizing type errors.
---
It's the little things that count
Just like the centralised configuration file, its all the small improvements which add up over time. You benefit from the improvements implemented from feedback by customers running real production apps.
Internationalisation
nxg-translate plugin integrated to make it easy to support multiple languages.
PWA Support
Generate the environment specific Service Worker for Firebase messaging, and the required integration to prompt to install
Client log submitter
Errors from the mobile apps are posted to the server logs for analysis.
Server database checks
Script to ensure MongoDB indexes are up to date on new deployments.
Mobile app database migration
Migration framework to update the database of the embedded SQL database in new versions of your app.
Up-to-date
Updated to work with the latest releases of iOS and Android.
Cloud native
Integration with Google App Engine and Cloud Platform to easily monitor resources and scale as your app grows.
Rapid
Cross-platform scripts to quickly test, build and deploy your app to the app stores.
Discount rates on services
Customisation and support services are at a discount to our regular rates.
---
---
Frequently Asked Questions
---
How Much Does An App Cost To Develop?
A report by Yalantis put a Tinder clone at $60k to $90k, and simple app starting at $20k
Lattice source code licence
(Includes Android, iOS, PWA, Node.js App Engine and Cloud Functions)
3 months of code updates included
$99
$47
Coming soon... Register below for updates
By purchasing the product you are accepting the licence agreement.